On-site Reporting of the Asia-Pacific Regional NGO Symposium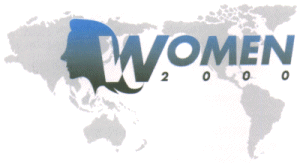 Greetings from Bangkok!
It's Day 1 of the Asia-Pacific Women 2000 Regional NGO Symposium. Major activities today will include the Youth Forum, the Opening Plenary and the presentation of sub-regional reports. There will also be meetings of the Steering Committee, and the Workshop Rapporteurs and Facilitators.
We will be sending daily reports on the symposium via e-mail and through the Beijing +5 section of the AWORC site. News dispatches from Isis International-Manila will also be posted on-line.
On September 1, workshops on the 12 Critical Areas of the BPFA will be convened. Comments and in-puts on the issues are welcome. Send in your messages before September 1; we will hand them over to the Facilitator of the workshop concerned.
For general information on the conference (schedule of activities, Kasetsart University, etc.) you may access www.ku.ac.th/news/women2000. This is the website prepared by Kasetsart University for the Regional NGO Symposium.